4.2.1. Graphs¶
In this section we'll learn a bit about graphs.
A graph is a collection of nodes as well as edges that connect nodes. There are lots of different kinds of graphs:
The nodes or edges may have labels
The edges may be directional (bidirectional or unidirectional)
The edges may have a cost associated with them
As with the other topics in this book, we only treat graphs in a shallow way. Namely to solve a very precise problem.
Here's an example graph: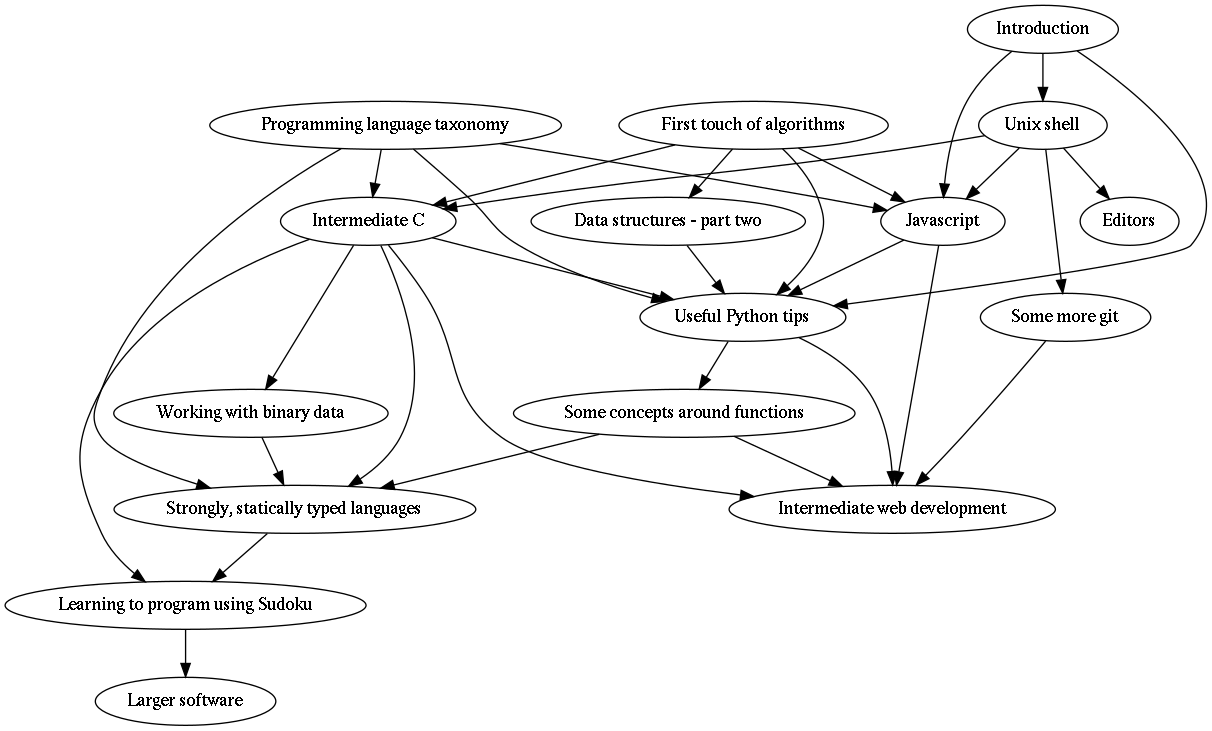 It's a graph showing the dependencies between some of the chapters of this book. For example, the chapter "Unix shell" has "Introduction" as its dependency.
(Apart from describing dependencies between chapters, graphs can be used for describing other kinds of dependencies like in a supply chain. They can also be used to describe other relationships like distances or routes between places, relationships between people etc.)
Now, here's the problem with this graph: it has too many edges. You see, the code that creates the edges for this graph isn't very smart, so it includes some edges that strictly speaking don't need to be there. For example, you see the edge from "Introduction" to "JavaScript"? As "JavaScript" already depends on "Unix shell" which depends on "Introduction", there's no need to have an edge from "Introduction" to "JavaScript". This edge can and should be removed.
We have two parts to this problem: one is finding the algorithm that does what we want it to do, i.e. remove the edges, and the other is putting this algorithm into use to actually generate a graph with unnecessary edges removed.
Can you think of how the algorithm to remove unnecessary edges would work?
One way to think of it is that an edge from A to C should be removed if we find an edge from B to C, where B is dependent on A, either directly or indirectly. That way we "only" need to keep track of which nodes are dependent on which. In pseudocode this could look something like this:
It's probably a good idea to draw the above on paper to get an understanding of how it would work.
Now that we have a very rough description of an algorithm in place, we can consider the question about how we actually would create or modify a graph.